Recipe of the Month
Basil Sage Pork Chops
January 2016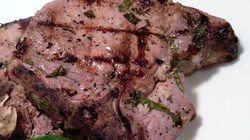 Winter is all about Comfort food and this recipe has it all. Warming sage, spicy basil and pork for some stick to your ribs winter sustenance.
4 lean pork chops
1 Tbls Olive oil
¼ cup water
1 Tbls fresh basil, chopped (1 tsp dried)
1 Tbls fresh sage, chopped (1 tsp dried)
Brown the pork chops in oil. Add water. Cover and simmer on medium high heat for 10 minutes. Scatter basil and sage over chops. Add more water if pan is dry. Cover and simmer for 10 minutes, or until chops are cooked through. Serve with green beans.
For more of our recipes (or to see the previous month's recipe) check out the recipe archive